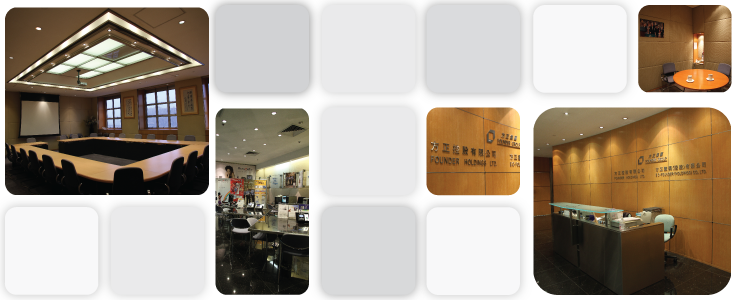 Founder GlobalTech Limited was founded in 2004 in Hong Kong, Malaysia Founder Holdings Limited (PUC Founder Bhd.)'s associates which is under the Founder (Hong Kong) Limited. Since 2009, Founder GlobalTech Limited has been restructured into an independent company in Hong Kong. Our major business is divided into two categories: system integration and distribution of electronic & creative products.
[title size="2″]Systems Integration (SI)[/title]Fully utilize the advantage of core technology and R & D results in products by the Beijing Founder Electronics Co., LTD such as electronic media publishing system, Founder font, editorial and advertising systems and digital asset management system, biometric (fingerprints and facial recognition) technology by Malaysia Founder, etc. Then, we will conduct a second development and personalized software development in Hong Kong, launch various types of IT products and supporting services to the Greater China region, including southern region of China, Hong Kong, Macao, Taiwan, Southeast Asia etc.
[title size="2″]Distribution Business of Electronic image industry Related Products(DC)[/title]In its own products, the Founder GlobalTech cooperate with some overseas hardware and software vendors to build strategic partnerships as sole agent in Hong Kong and Macao regions.Such as
Thunderbolt storage brand manufacturers : AKiTiO (USA), Promise (USA)
Commercial and high-end photographic equipment brand manufacturers :  PhaseOne Term (Denmark), MamiyaLeaf (Israeli )
Commercial and household photo printer brand manufacturers : HITI(Taiwan), Prinhome and Pringo(Taiwan)
Creative electronic product brand manufacturers : FNTE monitormate and CoreSuit(Taiwan), Big Balance (Hong Kong),  FLY Easy (Hong Kong)
above manufacturers have all agency rights in the Greater China region to sales of its brand products.