Node Duo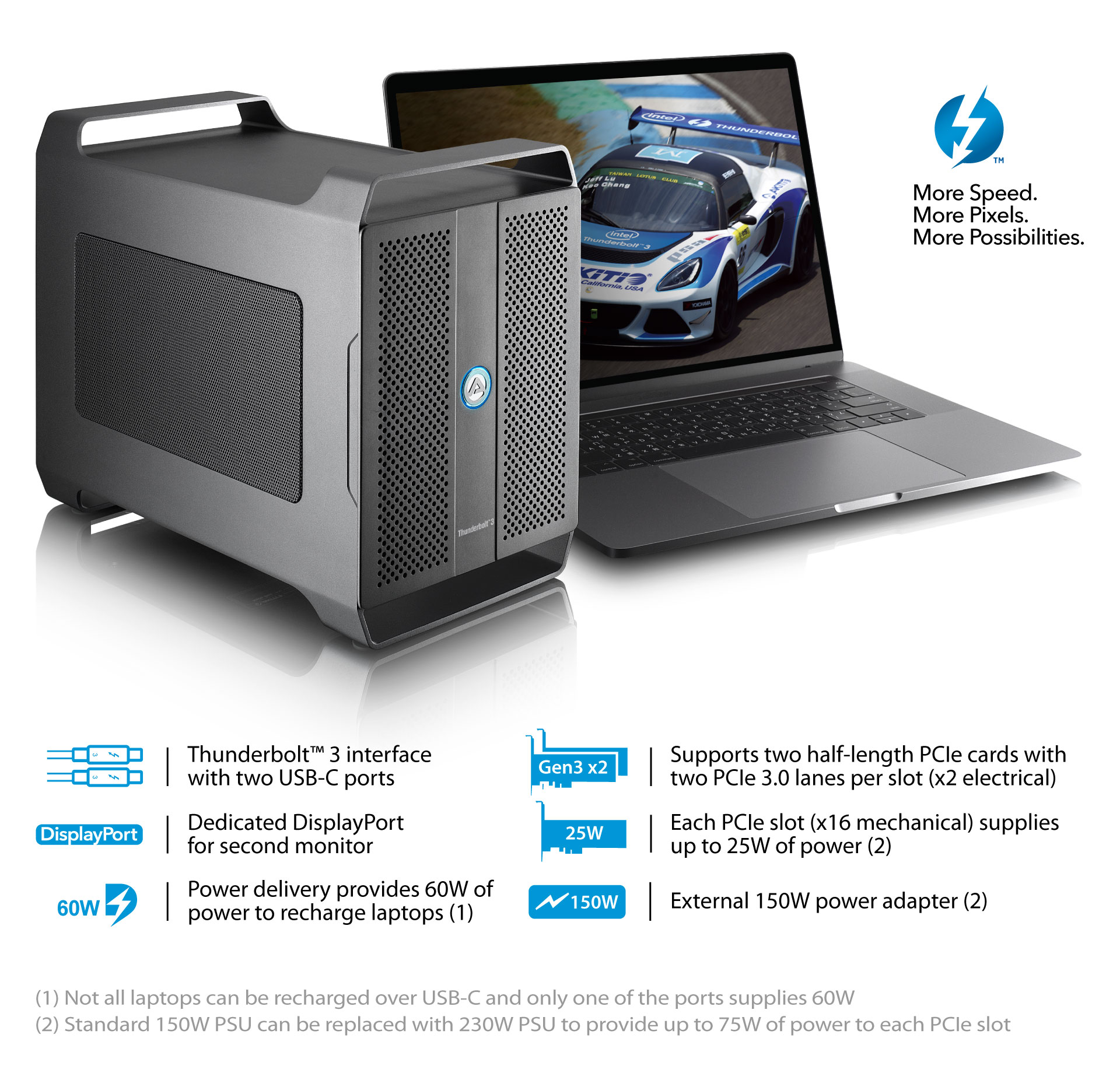 The Node Duo, with space enough for two half-length PCIe cards, is the ultimate plug and play expansion kit for Thunderbolt 3 computers (e.g. laptop computers) where installing an internal expansion card is not an option and for systems where there is not enough space for more PCIe cards. The Thunderbolt 3 (USB-C) connection not only makes adding an external PCIe card easy but it also allows you to take the device with you to use on location and move it from one system to another.
Features
Thunderbolt™ 3 for lightning fast transfer speeds up to 40 Gbps
2 PCIe (x16) slots supporting two half-length, full-height, double-width cards
PCI Express 3.0 compliant interface with 2 lanes per slot
Dedicated DisplayPort for additional monitor to expand the workspace
2nd Thunderbolt port supports Thunderbolt 3, USB 3.1, and DisplayPort devices
USB power delivery provides 60W of power to recharge compatible laptops
Wire mesh panel to dissipate heat from cards with on-board fans
Big handles to easily carry the device
Two PCI Express 3.0 slots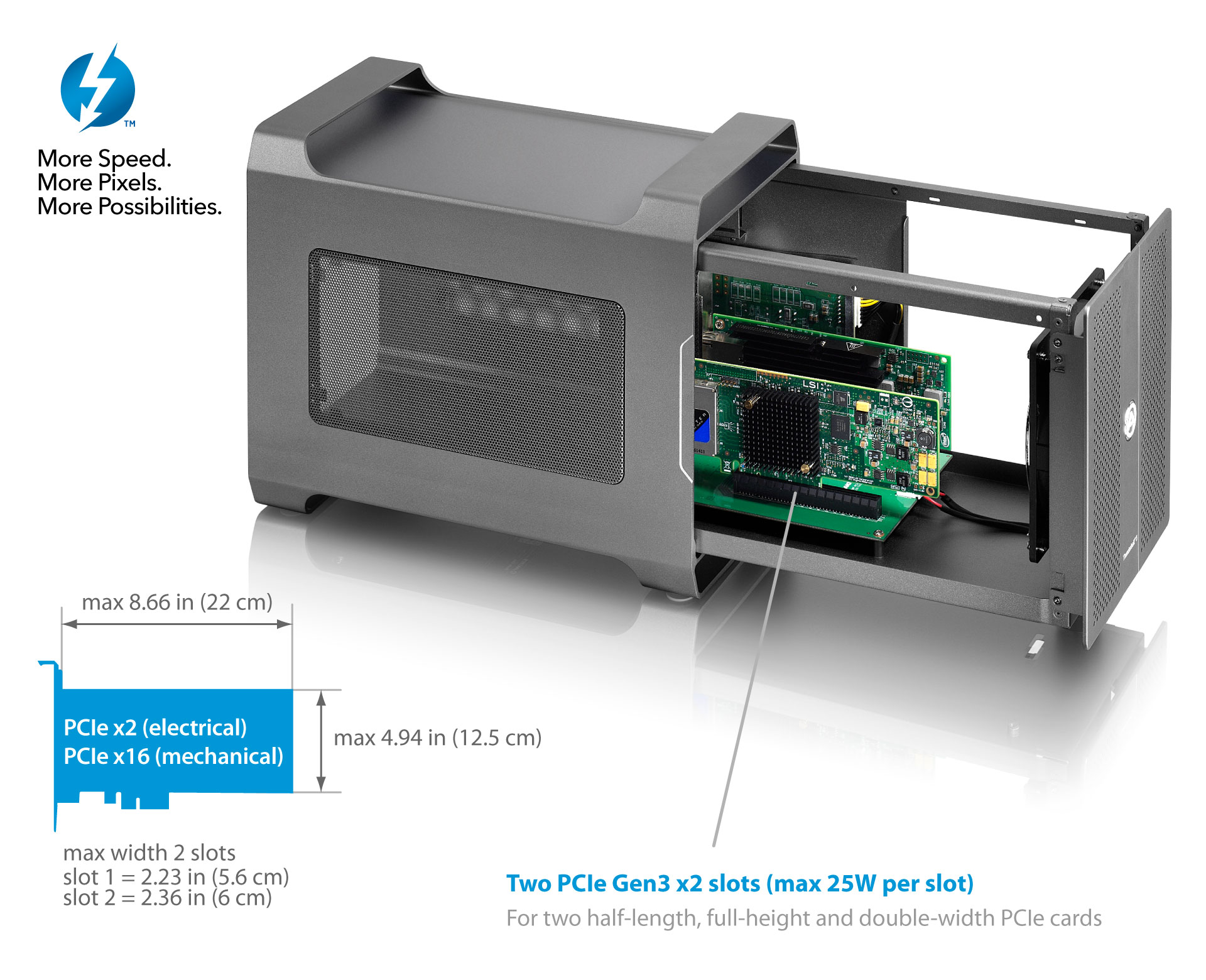 Supports two PCIe Gen3 x2 cards
The two PCIe slots accept half-length, full-height, double-width cards and provide 25W of power each. If only one PCIe card is installed and the power delivery function is not used, the PCIe slot can provide up to 75W of power.
Upgradeable power supply
For PCIe cards that require more power, this device can be modified accordingly. For more power, the included 150W power adapter can be replaced with a 230W power adapter, making it possible to provide up to 75W of power to each slot. For even more power, the breakaway-tab on the back panel can be removed to create an opening, which can then be used to run a cable from an additional PSU directly to the PCIe card (e.g. 6+2-pin PCIe power cable).
Two Thunderbolt™ 3 (USB-C) connectors with Power Delivery (PD)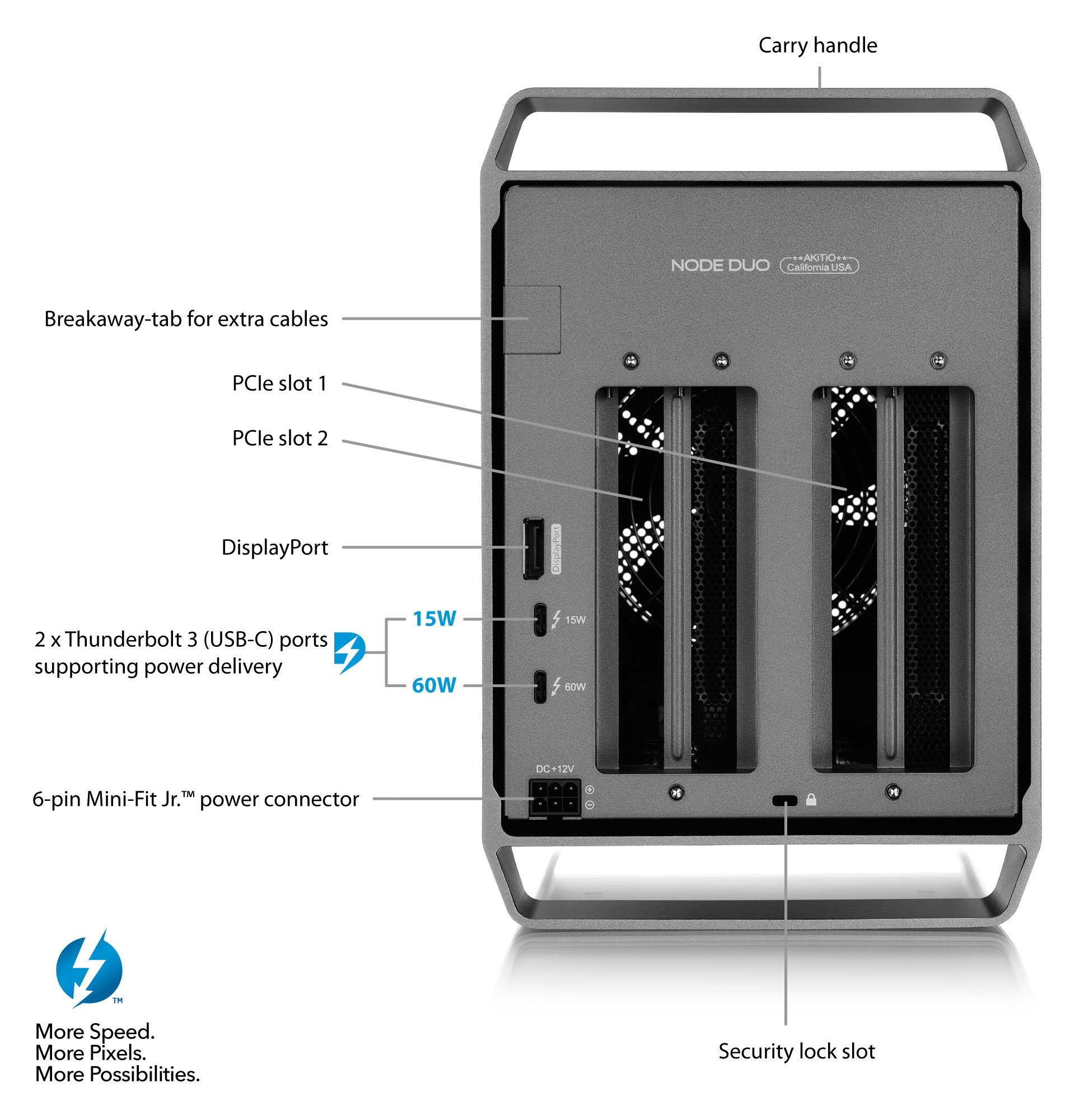 Power Delivery (60W)
The reversible USB Type-C (USB-C) connector enhances ease of use for connecting devices with a focus on minimizing user confusion for plug and cable orientation. The Node Duo also supports power delivery (PD) over USB-C, providing up to 3A at 5V, 9V, 15V, 20V with a maximum of 60W of power to compatible laptops like the MacBook Pro (late 2016) that support charging through the USB-C cable or for devices like the iPad Pro. This allows you to recharge your battery even though the laptop is not plugged into any other power source.
Thunderbolt connectivity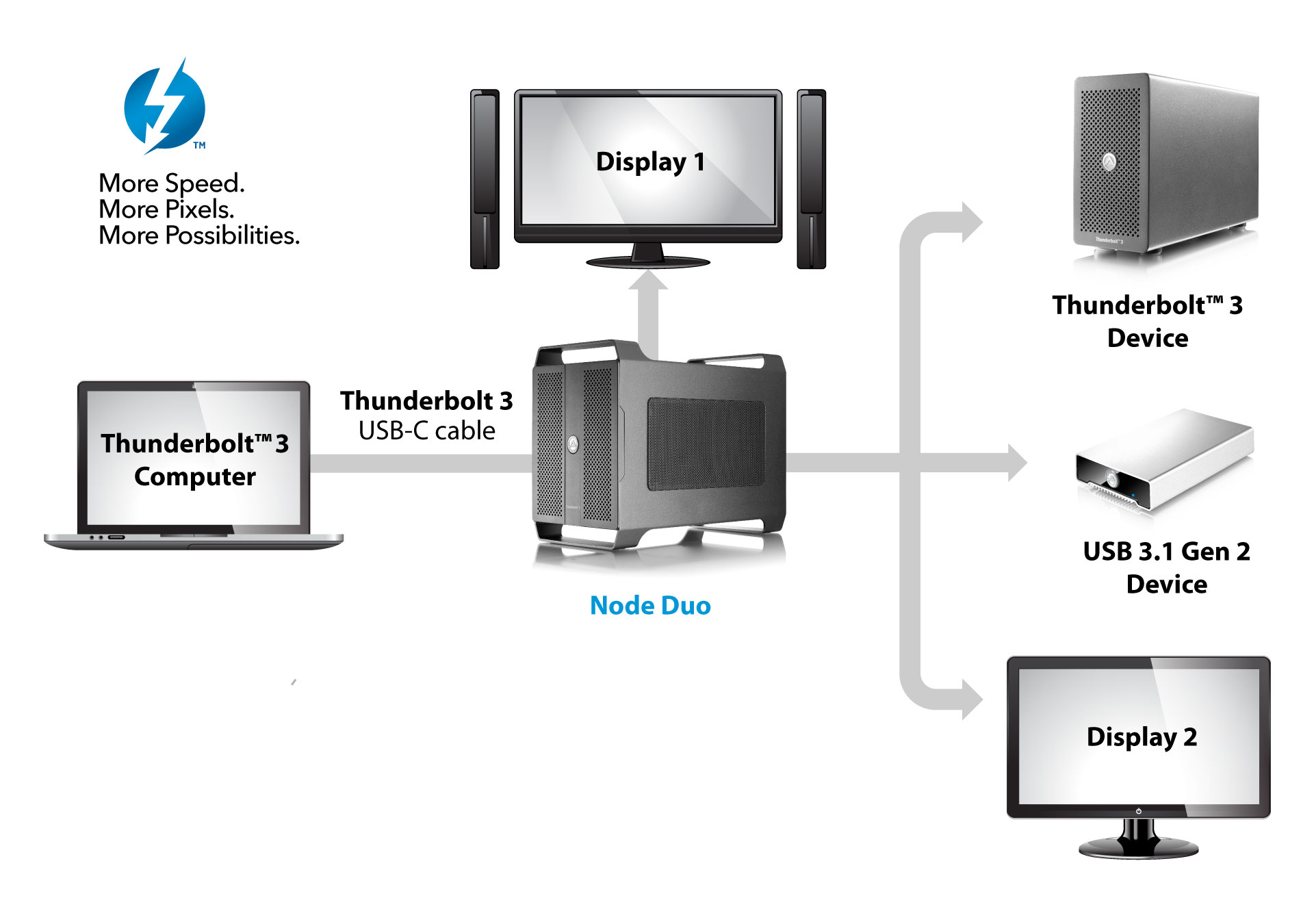 Thunderbolt™ 3
Thunderbolt 3 brings Thunderbolt to USB-C at speeds up to 40 Gbps, creating one compact port that does it all – delivering the fastest, most versatile connection to any dock, display, or data device. For the first time, one computer port connects to Thunderbolt devices, every display, and billions of USB devices. A single cable now provides four times the data and twice the video bandwidth of any other cable, while also supplying power to bus-powered devices.
The Node Duo has two Thunderbolt 3 ports. The second port operates the same as a Thunderbolt 3 computer port by supporting Thunderbolt 3 (up to 5 daisy-chained), USB 3.1 (10 Gbps), and DisplayPort devices.
DisplayPort
The dedicated DisplayPort connector makes it easy to connect an additional monitor to extend your workspace. This video output capability requires a Thunderbolt 3 connection to the computer and will free up the second Thunderbolt 3 port for Thunderbolt 3 (up to 5 daisy-chained), USB 3.1 (10 Gbps), and DisplayPort devices.
Specifications
Part No.
T3N2AA0002Y00U (without PCIe cards)
Certifications

CE
FCC
VCCI
BSMI
RCM
Thunderbolt

Warranty
2-year limited warranty
Case material
High quality aluminum with wire mesh panel
Application

2 x PCIe cards(see compatibility chart)
Supports half-length (max 8.66 in / 22 cm), full-height (max 4.94 in / 12.5 cm) and double-width (max 2 slots) cards
Each PCIe slot provides a maximum of 25W but the standard 150W power adapter can be replaced with a 230W PSU to provide up to 75W per slot

RAID mode

2 x Thunderbolt™ 3 (USB-C) ports with one of the ports supporting power delivery (PD) up to 3A at 5V, 9V, 15V, 20V with a maximum of 60W
1 x DisplayPort 1.2
2 x PCIe slots (x16 mechanical) with 2 lane PCI Express 3.0 interface (x2 electrical) per slot

Data transfer

Thunderbolt 3 up to 40 Gbps
DisplayPort 1.2 (4K at 60 Hz)

System requirements (PC)
Not supported [Why not?]
System requirements (Mac)

macOS 10.13 and later
Computer with Thunderbolt™ 3 port

System environment

Operating Temperature: 5°C ~ 35°C
Storage Temperature: -20°C ~ 60°C
Relative Humidity: 5% ~ 95% (non-condensing)

Power supply

External power adapter (UL, cUL, CE, FCC, GS, PSE, BSMI, RCM, CCC, KC approved)
Input: AC 100-240V, 50Hz-60Hz
Output: DC +12V/12.5A

Fan noise level
29.6 dB(A)
Dimensions (LxWxH)

11.54 inches x 6.1 inches x 9.13 inches
29.3 cm x 15.5 cm x 23.2 cm

Package contents

Node Duo with external 150W PSU
Thunderbolt 3 USB-C cable (2m)
Setup guide

Carton/Packing

Retail Box Size: 16.54 x 8.27 x 11.5 in. (42 x 21 x 29.2 cm)
Carton Size (3pcs per carton): 26 x 17.32 x 12.4 in. (66 x 44 x 31.5 cm)

Remarks

PCIe card (driver) must be compatible with requirements for Thunderbolt technology (e.g. hot-plug support, recovery from sleep).
The DisplayPort does not support DP++. When using a DisplayPort to HDMI adapter, make sure to use an active adapter.
This product has components or design elements that are patented or patent pending.