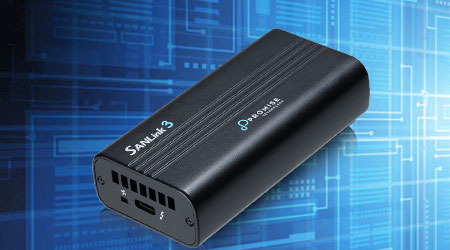 Get more from existing networks or take advantage of new infrastructures
SANLink3 N1 NBase-T lets you connect at 1, 2.5 or 5Gbps over most existing Ethernet wiring or up to 10Gbps on the latest high-speed networks
Convenient and portable connectivity solution
SANLink3 N1 is bus-powered and requires no separate power supply. With its compact size and included Thunderbolt™ 3 cable, you can now stay mobile without sacrificing connection speeds.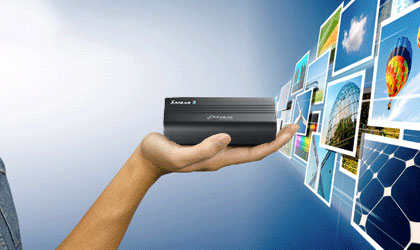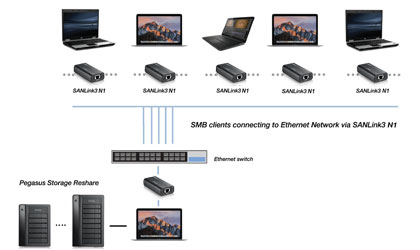 Do more with a single Thunderbolt™ 3 port
Daisy-chain multiple Thunderbolt™ 3 devices – High resolution displays, Pegasus3 RAID storage and connect to 10G Ethernet with a SANLink3 N1 and still get maximum performance!
The most affordable high speed Ethernet connection solution
SANlink3 N1 raises the bar for high-speed Ethernet connectivity and affordability. No other Thunderbolt™ 3 adapter provides these capabilities in such small compact package.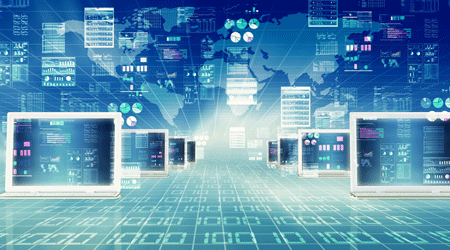 SPECIFICATIONS
Ethernet Port
NBASE-T Ethernet Port
Thunderbolt Technology Ports
Single Thunderbolt TM™3 technology port (40 Gbps)
Transfer
1250MB/s at 10Gb
625MB/s at 5Gb/s
312.5MB/s at 2.5Gb
125MB/s at 1Gb
Host Bus Type
Single 40Gbps Tunderbolt TM™3 port
Protocols
IEEE 802.3an – 10GBASE-T
IEEE 802.3bz – 2.5G/5GBASE-T
IEEE 802.3ab – 1000BASE-T
IEEE 802.3u – 100BASE-TX
Dimensions
24mm (H) x 96.4mm (W) x 48mm (D)
Weight
120g/ 0.26lb
Warranty
3 year limited warranty
Requirements
Workstation or portable with ThunderboltTM™3 port (ThunderboltTM™3 cable included)
OS Support
OS X 10.13.3 or later
Windows 10 (64-bit-available driver download)